LET'S WORK TOGETHER
- JOIN OUR PARTNER NETWORK
We are interesting in partnering with consulting companies with experience and expertise in Microsoft Dynamics solutions.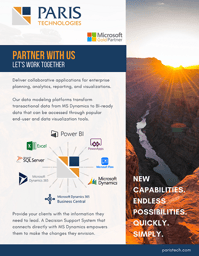 By working together, we can leverage your customers' Microsoft Dynamics systems and deliver enterprise-level capabilities for integrated reporting, planning, and forecasting.
In this partner information sheet, you will learn more about our partner engagement models and how we can unlock potential profits together.